Testimonials - some messages from our customers
Helping those who helped others......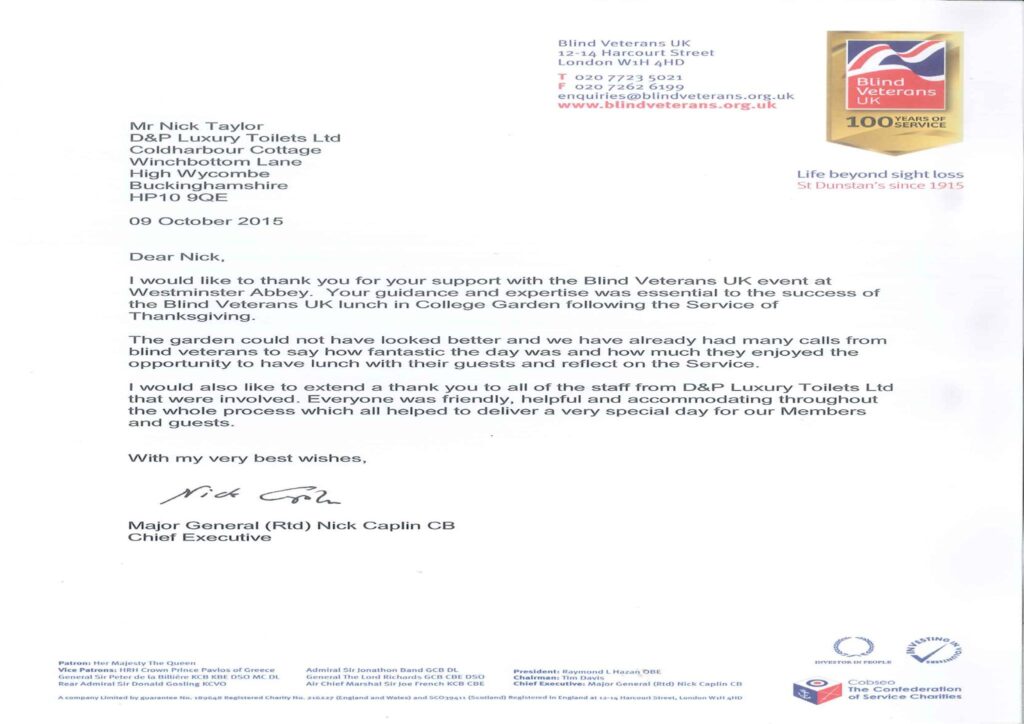 Hi Clair
Further to my call today, I just wanted to confirm a genuine heartfelt thanks to all of you! Sally, yourself, Jane, John, Nick and Amazing Andy!
John was so helpful yesterday along with Sally relaying messages! I am so over this job that we wouldn't normally get involved with, a favour to another big agent!. Andy has been brilliant when he called last night and said he had worked at the park and somehow would make things work. He was so patient and then called me to say all had been done and was very re-assuring!
As I say genuinely thank you for your support over something you do every day for a living that should be simple, it is in our world normally!! I will make sure next job is a lot easier I promise and with plenty of notice with full information – how it should be done!!
Top Team!!
Regards
Lisa XX

D&P Luxury Toilets at Henley Regatta
Hi Clair
You and your guys provided us with a great service and would look to book you again with you next year, thank you
Archie
Maidenhead Steam Navigation Co Ltd
Hi Clair
We have now had a chance to reflect and debrief and I would like to say a big thank you for all your help and support which made Southall Mela 2015 a success!Lessons were learned but overall we felt it was a great event and we have had excellent positive feedback. This would not have been possible without the support of you and your colleagues. Please pass on our sincere thanks. Photos will be on our website and Facebook page next month.
Kind regards
Hanif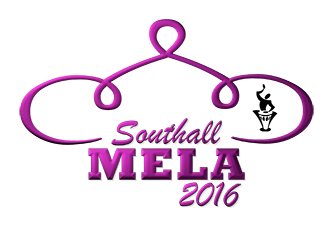 Hi Clair,
Many thanks for the excellent service again. I don't know how the staff manage to remain so cheerful after such a long day and with coping with
the traffic and poor roads. Could we book you in for June 2016 for the same service?
All the very best.
George
Ad Week
Hi all
Apologies for the lateness of this e-mail, but wanted to pass on a huge thanks from our team and the client for making Ad Week such a success
It was a tight turnaround and late sign offs as usual, but your help onsite, quick turnarounds, long hours and usual professionalism and courtesy onsite were really appreciated – it made it a pleasant environment to be in!
The week itself was extremely successful and the client was really pleased with the look, feel and the polite staff onsite
I look forward to working with you all again soon and have a lovely and well deserved Easter break 🙂
Please pass to those in your team who I don't have addresses for
All the best
Erica x

Flood Relief - February 2014
"Sorry I meant to say thank you for the great service your company has provided, much appreciated. Would definitely recommend you."
Thanks
Sue Reeves

"The weather in Theale as you know has been dreadful however I would Just like to say how helpful your delivery team were, very polite and proficient"
Many thanks
Sue
Thanks so much once again to you and your team for all your help in creating a wonderful event for our client this weekend
The party was actually awesome, and everybody was absolutely thrilled with the whole weekend.
Couldn't have done it without you, so give yourselves another big pat on the back gang. It was great and always a pleasure to work with you.
See you at the next one!
Kind regards
Ax Aarti Ramu-Clark

The Sun Military Awards
I hope this email finds you well and that you have now had a chance to recover from the excitement of the Millies and have managed get some well-earned rest!
On behalf of the team at ESC Events and our client; The Sun, I would like to thank you for all of your hard work in making The Sun Military Awards (Night of Heroes), such a huge success.
Holding the event in a new venue certainly held its challenges and I would like to thank our contractors, our staff and the Museum staff for your hard work and cooperation in overcoming any obstacles and transforming the National Maritime Museum for the evening. The venue really did looking fantastic both inside and out – I hope you will all agree.
I am looking forward to watching the show on ITV this Monday 16 December at 9pm, I hope you will metaphorically join me and celebrate a successful evening!
It was a delight to work with you and all of your team.
Many thanks again & Merry Christmas!
Kind Regards
John Wickens
Managing Director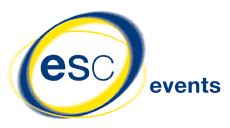 Corporate Event
A massive THANK YOU, to every one for all their hard work on the event yesterday. Without you and your wonderful team it would not have been such a success. The client was very happy with everything. I hope that you enjoyed working with Private Drama as much as we enjoyed working with you.
I look forward to working with you again in the future.
Have a great weekend.
Kindest regards
Catherine
Catherine Fuller
Event Manager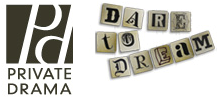 Private Wedding
Many thanks to you and your colleagues for such a great service. The toilets were immaculate and everything worked perfectly! Thanks also for making booking etc so straightforward and being so responsive it made one less things to worry about organising.
Lucy
Private Party
Thanks for all your help with this event (a private birthday party), it was huge success.
Camilla Lascelles

V Festival
Please thank the guys for all their help down at V last week. They're a really solid and pleasant team to have around and it was much appreciated. The WCs this year were 100% better than in 2012 apparently.
Click HERE to download the written testimonial.
Kind regards
DANx
Dan Keam-George
Senior Producer

Private Wedding
Toilets were again brilliant so thank you very much!
Thanks again
Matt
Matthew Peek

Private Wedding
I got your details from my sister, Lindsey Pyper, who is now off on honeymoon. I believe you provided portable loos for her wedding this bank holiday, and they were definitely the nicest portable loos I've been in!
Many thanks.
Lesley Laity
Private Wedding
Many thanks to you all. We had many compliments from guests about how lovely the loos were- thank you. Everything was wonderful, now on honeymoon enjoying a bit of down time together after the madness of wedding planning!
Kind regards,
Vicki
Private Wedding
I received your "thank you note this morning.
Thanks to you and your team from us too!
Everything was done very efficiently and as expected - everything ran like clockwork, and everyone had a great time.
Best wishes
Jeremy Rowe