You will see some of our recent installations depending on the type of event (click on the photo to enlarge), however having said that any system can be adapted to any event, please call us on 01494 526 065 for more details.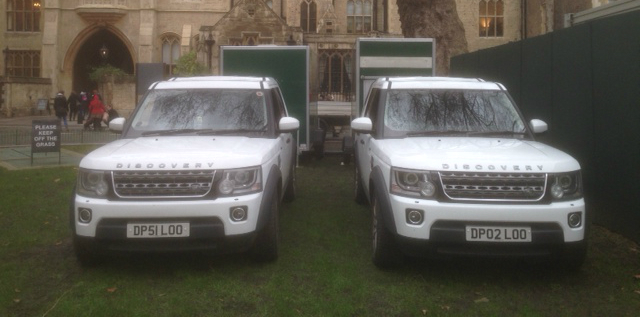 We understand that on your big day delivery and pickup can either enhance your event or bring it down. At D&P we take no chances and using our new fleet of crystal white Discoveries we look as smart as we act.
Weddings
With a wide range of trailers we can adapt to your garden size even if you have disabled guests. Having supplied people like the Royal Wedding and Children in Need you can be sure we know what we are doing.
Parties
Are you planning the perfect party? We can help you make it go smoothly delivering your requirements with our new fleet of stunning white Land Rover Discovery cars not ageing old Jeeps or worse.
Modular Super Luxury Units (moduvac)
Looking for something special? Then look not further. With our modular Super Luxury Units the only limit is you imagination.
Have a look at some of our installations below and then give us a call on 01494 526 065 for more details.
Sporting Events
Are you planning a Sports Event, we understand the pressures you are under and we can give one less things to worry about with our seamless service and our unique 24HR call-out facility.
Large Events, Music and Festivals
Don't have your event remembered for all the wrong reasons. Let us help you plan a quality service that won't break the bank.