Ultimate Luxury Toilets Facilities
At D & P Luxury Toilets we have embraced vacuum technology and provide fresh water flush toilets facilities that do not have to be plumbed into drains. Jet pumps allow a minimum amount of water to sanitise the toilets realising an environmentally friendly and no additive system.
Flexiloo Modular Toilet System and Designer Washroom
These are modular units that can be arranged to compliment the space available and desired layout in your marquee or building.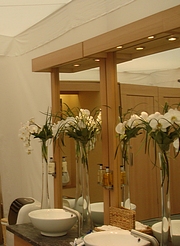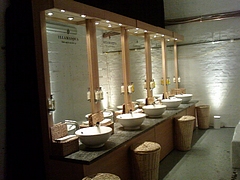 Each toilet cubicle is manually situated in the cloakroom area along with designer vanity units to create an ambient atmosphere, mirrors, sofas and other props can be added to give a bespoke affect. All pumps, pipe work and tanks would be situated outside of the structure. The ultimate toilets will be unique to your party
Click HERE to download the Flexiloo Modular Toilet System Brochure
Ultimate Luxury Toilet Trailers -
Toilet trailers with noLuxury Toilet Trailers London blue additive but still self contained. These units are spacious, contemporary and the best in every way.
The 3+1 model is ideal for around 200 guests. Three ladies toilets, raised sinks, large mirrors and a vast cabin space give a super luxury finish. One gentlemens' toilet and discrete urinals giving plenty of room and help minimise queues. Doors on either side allow superb access. Gents and ladies vanity areas enjoy 2 sinks each Ultimate Luxury Toilet Trailerwith ample space for floral decorations; or any other props that you would like to add to personalise your event.